Results
Below are the measured results, with the pipe unstuffed (I did not account for any stuffing in the HornResp model).
Above is the measured frequency response of the raw system, without any damping material inserted. As I'm driving the tapped pipe subwoofer using the subwoofer channel on my amplifier, the response also includes the effects of an active 12dB low-pass filter @ 100 Hz. Included in green is the theoretical response as predicted by HornResp. As I got the pipe length wrong, there is a bump at 53 Hz which is not present in the HornResp predictions. I also later found a minor leak around the driver, which could account for the strange dip and peak just under 20 Hz. Apart from that, there's pretty good correlation above 100 Hz, particularly considering the effect of the 100 Hz low-pass filter. It's clear from the measured results that HornResp has done a pretty good job of predicting the system's frequency response, with good correlation up to ~300 Hz.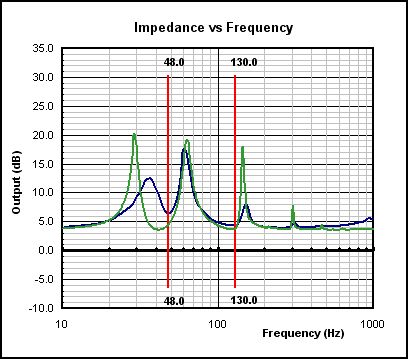 Above is the impedance response of the system. In green is the response as predicted by HornResp. Again, I suspect that it's a bit different because I may have gotten the pipe length wrong, and the small leak could have caused the lower frequency peak to be a bit lower in level than expected. Interestingly enough, apart from the lowest minimum and below, the other peaks that occur for the rest of the impedance response seem to be close matches in frequency, though the amplitude seems to be off (probably because of losses).
Brian Steele
30 August 2009